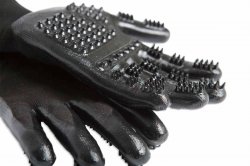 $24.99
Wet or dry, these 5 fingered grooming gloves are unbeatable.
Relaxes and helps naturally build a bond with your animals.
Most animals will gravitate to you wanting more grooming and petting time.
Your hands and fingernails stay clean.
Compact, easily fits in your pocket, grooming caddy, tote or bag.
3 Sizes small, medium, large. Sizes in stock will show in drop down list.