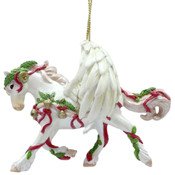 $19.99

1 available
Trail of the Painted Ponies Gloria Ornament
The cold, icy wind picks up. Shimmering gold dust fills the night sky. A beam of light shines down from Heaven. And "Gloria" appears soaring through the clouds, surrounded by angels singing, "Glory to God in the highest, come, adore the newborn king.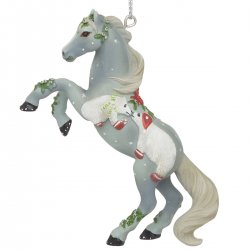 $19.99

1 available
Trail of the Painted Ponies Mistletoe Kisses 2020 Ornament
Christmas brings such an abundance of love into hearts and homes that there could be no better time for a "Mistletoe Kisses" Pony to arrive to spread the tradition of kissing under the mistletoe. To help set the mood, cute and furry little bears have come along for the ride, rubbing noses and giving loving hugs to each other as they wish everyone a blessed holiday season.