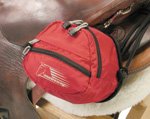 $19.40
The perfect complement to any hoof boot. This bag will hold up to two size #2 in Easyboots, Epics or Gloves or one #8 Trail. Plus, it has two extra compartments for accessories. Has a clip on top with tie strings to attach anywhere on the saddle.
Colors: Royal Blue, Navy, Purple, Hunter Green, Red, Brown, Black
Only colors in stock will show in the drop down list.