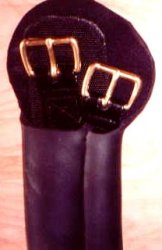 $75.00

Please contact me for estimated arrival
SG Modified English Girth for wide billets, offset rear
SG Modified English girth for use with many trail saddles using an angled rear billet.
Determine buckle width by the width of your billet strap. The actual buckle will be wider.
Length measured buckle tip to buckle tip. (Includes length of buckles.)
I AM UNABLE TO TAKE ORDERS FOR THESE GIRTHS UNTIL I FIND A NEW SOURCE OF NEOPRENE.